Itineraries
VISIT THE ARCHAEOLOGICAL PARK OF POMPEII SAFELY
Buildings that can be visited on the routes (click here)
NOTICE – We invite the visitors to read all the information for the access and the visit to the archeological site
OBLIGATORY ROUTES IN THE ARCHAEOLOGICAL PARK OF POMPEII
Entrance tickets can be purchased online at the website www.ticketone.it  the only authorized retailer (Free and reductions as per current legislation.  Only on paid tickets there is a pre-sale fee of 1.50 euros), or at the ticketoffices of Porta Marina, Piazza Anfiteatro and Piazza Esedra gates, cash or by credit card (Visa, Mastercard, Maestro, Pagobancomat, American Express) where  holders of the free and reduced artecard ticket are granted the access.
For the various free categories (teachers, disabled, etc., simply select any category of free on the ticketone website. At the entrance you will be required to show the document proving the right to the free. No commission is required
At the time of purchasing online, the visitor will be able to select an entry time slot – these are scheduled every 15 minutes with a maximum of 500 people per slot, up to 1.00 pm. After 1.00 pm admission is allowed for a maximum of 300 people per shift. The ticket must be shown at the entrance, either on a smartphone or tablet (QR Code), or as a paper copy already printed at home. A delay of up to 10 minutes from the indicated time slot will be tolerated both for visitors and guides.
Bookings will be possible on the same day, subject to availability.
It will be possible to access from the three entrances of Porta Marina, Piazza Anfiteatro and Piazza Esedra. The access to the site provides two differentiated one-way itineraries, starting from Porta Marina and Piazza Anfiteatro, but with the possibility to enter them from Piazza Esedra as well andwith a wide choice of visiting not only the public buildings but several houses too
The two itineraries are specially marked, according to obligatory directions and they will allow the visitor to choose from which part of the city to start the visit, with a wide choice and access not only to public buildings but to different domus as well.
The itineraries allow you to visit the whole site, regardless of the choice of entrance. Although the paths meet, they guarantee a visit in full compliance with health regulations, thanks to the appropriate signposting.
To consult the buildings that can be visited and their opening hours click here
In order to ensure a safe visit,My Pompeii app is recommended ( Apple store and google Play store)  which, once downloaded, will allow you to scan the QR code of the ticket and start the tour inside the site.Viewing on a map, in real time, the number of people present along the route will be possible to avoid crowding
At the Piazza Esedra and Porta Marina entrance it will be possible to request a guided tour at times between 9:00 and 13:00.
Groups will be able to access the site according to the following limits:
independent visitor groups, up to maximum of 5 people
groups accompanied by tour guides, up to maximum of 10 people ( max 25 people if the group has been equipped with disposable earphones / whispers
Inside there is a café service at the Forum Autogrill, which is open between 9:00 and 17:00
Sanitary facilities are avaiable at Piazza Anfiteatro gate, Porta Marina gate  and Piazza Esedra gate (at the Antiquarium are temporarily out of service)
Upon arrival, visitors will be subjected to temperature measurement by means of a thermoscanner.
According to the ordinance of Campania Region n 72/ 24th September 2020, throughout the region, wearing a mask is compulsory even in outdoor places as well as indoors, all day, regardless of interpersonal distance.
In addition to respecting the physical distance of 1 m outdoors and 1.50 indoors, on the site and outside.
The visit will take place in full compliance with the distancing measures provided by the Scientific Technical Committee, also with the support of directional signs specifically installed by the Park. Sanitizing gel dispensers will be guaranteed at the entrance and at the toilets available to visitors.
Opening hours from 8th July 2020

Sites

Opening

Last entrance

Closing

POMPEII Tuesday to Sunday

(Closed on Mondays)

9.00

17.30

19.00

BOSCOREALE (only VILLA REGINA, Antiquarium is closed)

maximum 15 people every 30 minutes

(Closed on Tuesday)

9.00

17.30

19.00

VILLA ARIANNA, VILLA SAN MARCO (STABIAE)

(Closed on Tuesday)

8.30

18.00

19.30

OPLONTIS

(Closed on Tuesday)

maximum 40 people every 15 minutes

9.00

17.30

19.00
Tickets (from 01/08/2020)

Price

Reduced

Validity

POMPEII

for tickets booked in the range from 9.00 to 16.30 (exit by 19.00)

€ 16.00 (+ € 1.50  of presale)

€ 2.00 (+ € 1.50 of presale) (#)

1 day

POMPEII

for tickets booked in the range from 16.30 to 17.30 (exit by 19.00)

€ 10.00 (+ € 1.50  of presale)

€ 2.00 (+ € 1.50  of presale) (#)

1 day

BOSCOREALE (only VILLA REGINA, Antiquarium is closed)

from 9.00 to 19.00 (last admission 17.30)

€ 2.00 only Villa Regina (+ € 1.00  of presale)

€ 7.00 Villa Regina + Villa of Poppea in Oplontis (+ € 1.00 of presale)

1 day

VILLA ARIANNA, VILLA SAN MARCO (STABIAE)

from 8,30 to 19,30 (last admission18,00)

FREE
OPLONTIS VILLA OF POPPEA

from 9,00 to 19,00 (last admission 17,30)

With the same ticket you can enter Villa Regina in Boscoreale

€ 7.00 (+ € 1.00  of presale) 

1 day
(#) Admission cost of €2.00 for EU citizens between the ages of 18 and under 25.
"Domenica al museo", which provided free ticket every first Sunday of the month, is currently suspended.
The Pompei365pass validitywill be extendedby the number of days (2 months and 18 days) corresponding to the duration of the site's closure as a result of the health emergency. The free ticket for a single access must be requested on the website www.ticketone.it
The guides will have access with the presentation of the badge, if they have a group of people. For personal entry, study or inspection purposes, it is necessary to request a free online ticket (without commission) on www.ticketone.it. This allows to count the presence in the number of  visitors allowed per time slot. The ticket can be purchased on the Ticketone platform for the day of visit, subject to availability
"POMPEIIFORALL" ROUTE
Visitors with mobility difficulties, entering from the Piazza Anfiteatro entrance, will be able to follow the facilitated "Pompeii for All" (click here) route. Temporarily the exit for our visitors on the route "Pompeii for All" is Piazza Anfiteatro. If you wish to exit at Porta Marina or Porta Esedra  you are recommended  to call the staff  (+39 081 8575400) who will give assistance to use the elevator at the Antiquarium (temporarily closed for works in progress) – variable waiting times. Calling the guardian coorditation phone number is recommended to avoid waiting.
From Tuesday 22nd September to Tuesday 06th October the Antiquarium lift for the disabled will not be usable, because of the work in progress. Therefore the only exit for visitors with mobility difficulties will be from Piazza Anfiteatro. We apologize for the inconvenience.
IT IS POSSIBLE TO PURCHASE THE ENTRANCE TICKET ONLY ON LINE AT THE FOLLOWING LINK
OBSERVE ALL SAFETY MEASURES TO REDUCE CORONAVIRUS DIFFUSION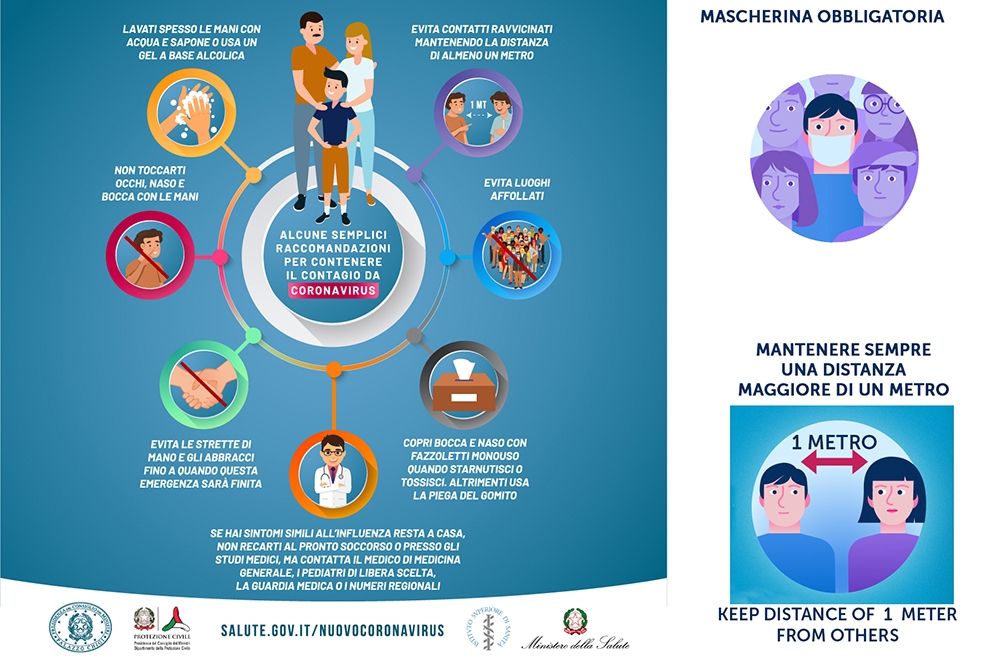 SOCIAL DISTANCING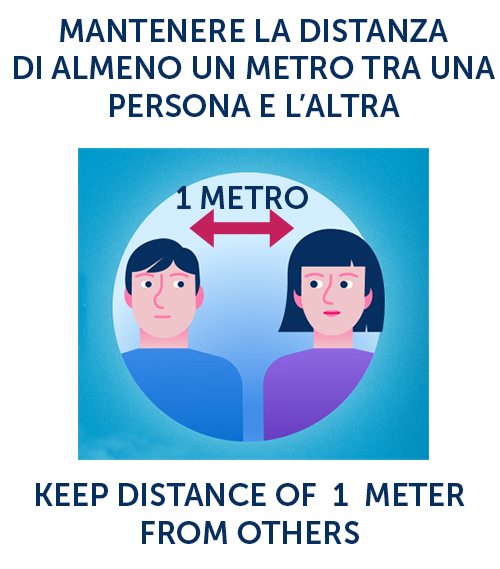 HAND WASHING INSTRUCTIONS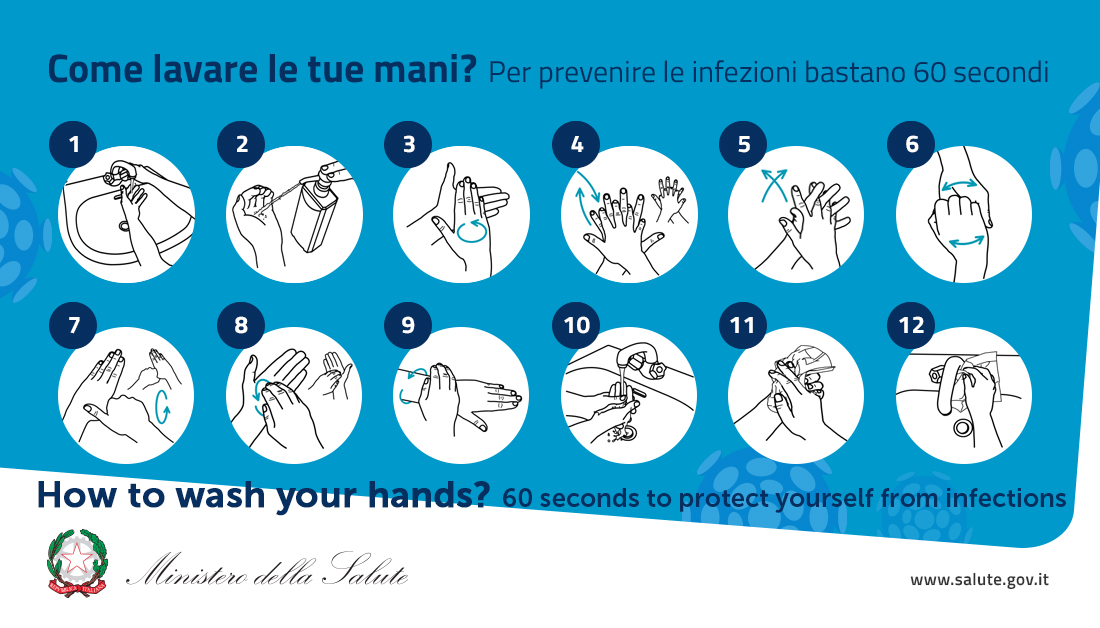 TERMOSCANNER AND THERMAL CAMERA
Access to the Archaeological Park of Pompeii is subject to the detection of visitors' body temperature in order to reduce and limit the COVID -19 infection: this procedure is part of the operations of prevention, protection and safety of public health, according to the national and regional provisions. Authorized personnel will proceed to the measurement of the body temperature of all visitors with a termoscanner and Thermal Camera: those who have a body temperature equal to or greater than 37.5° C and/or with obvious symptoms of infection will not have access to the areas of the Archaeological Park of Pompeii, even if equipped with personaI protective equipment.
Body temperature measuring data will not be recorded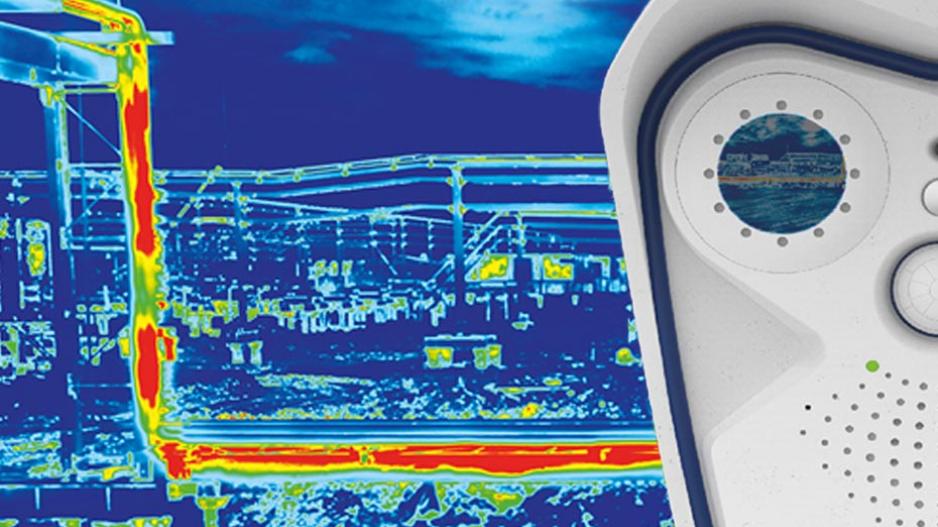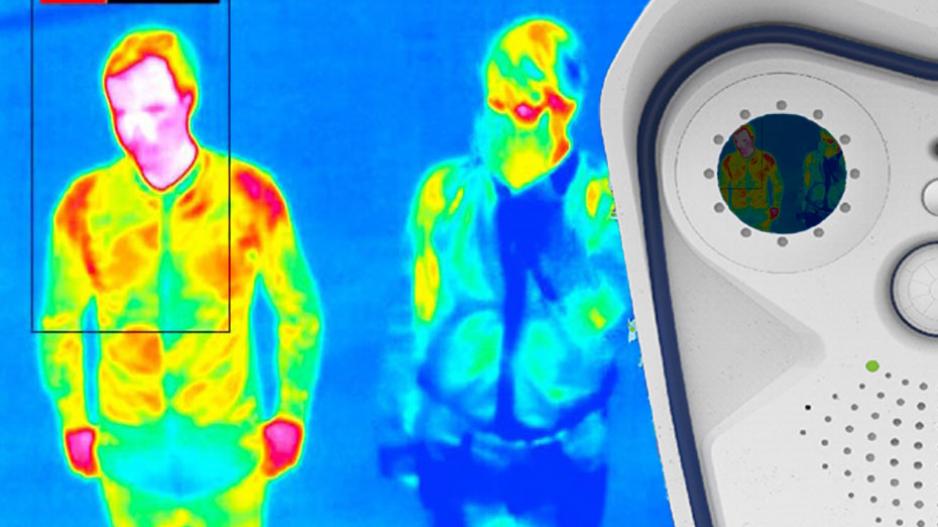 IT IS POSSIBLE TO PURCHASE THE ENTRANCE TICKET ONLY ON LINE AT THE FOLLOWING LINK