STABILISATION WORKS BEGIN IN THE INSULA OCCIDENTALIS OF POMPEII
Stabilisation works have begun in the Insula Occidentalis of Pompeii which, in a little over a year, will allow the public to enjoy the extraordinary urban villas of Marcus Fabius Rufus and Maius Castricius, as well as the House of the Golden Bracelet and the Library, which overlook the Gulf of Naples and until now have not been accessible since they are used to house the restoration laboratories of the Park.
The operation, which involves the assembly of a 65 metre crane, will allow us to reopen to visitors these residential complexes, which are unrivalled in their elegance and refinement, and span an area of almost 6,000 square metres, and are where the connection between Pompeii and the surrounding territory, between Pompeii and 'its' sea, takes shape and meaning.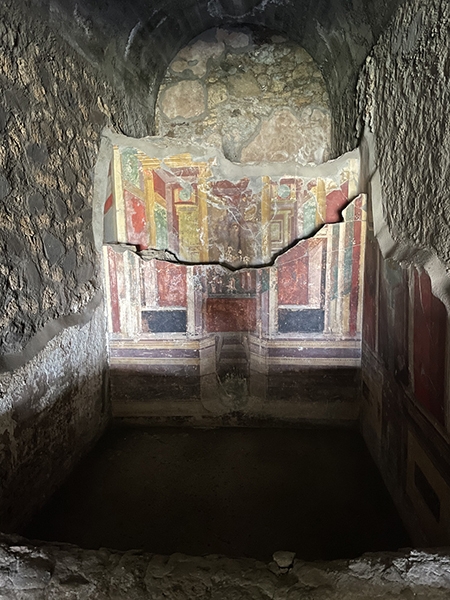 The majestic urban villa complex of the Insula Occidentalis is located at the edge of the ancient city, in Regione VI not far from the Forum. Four panoramic terraces, which slope scenically towards the sea, reveal to the visitor an iconic testament to the Roman taste for living in sumptuous and elegant dwellings, where the landscape constitutes one of the predominant elements of the overall architectural composition.
Frescoes, mosaics and furnishings are the elements still present today that construct a space within which one may experience the pleasure of living and everyday luxury: spaces immersed in a refined beauty provided by paintings with cultured literary references, or depicting lush open gardens overlooking the valley where the river meets the sea; floor mosaics with coloured marbles originating from various regions of the empire decorated the rooms, whilst spectacular water features enhanced the outdoor dining areas.
The works are being financed by CIPE funds from the 'Culture and Tourism' Management Plan Fund for Development and Cohesion (FDC), as well as with funds from the Archaeological Park of Pompeii itself, and will be concluded in a year's time, when not only the public and domestic spaces of the buildings will reopen to visitors, but also their gardens and internal green areas, where they will be able to rediscover, today, that complex link between culture and nature which characterised the life of ancient Pompeians.