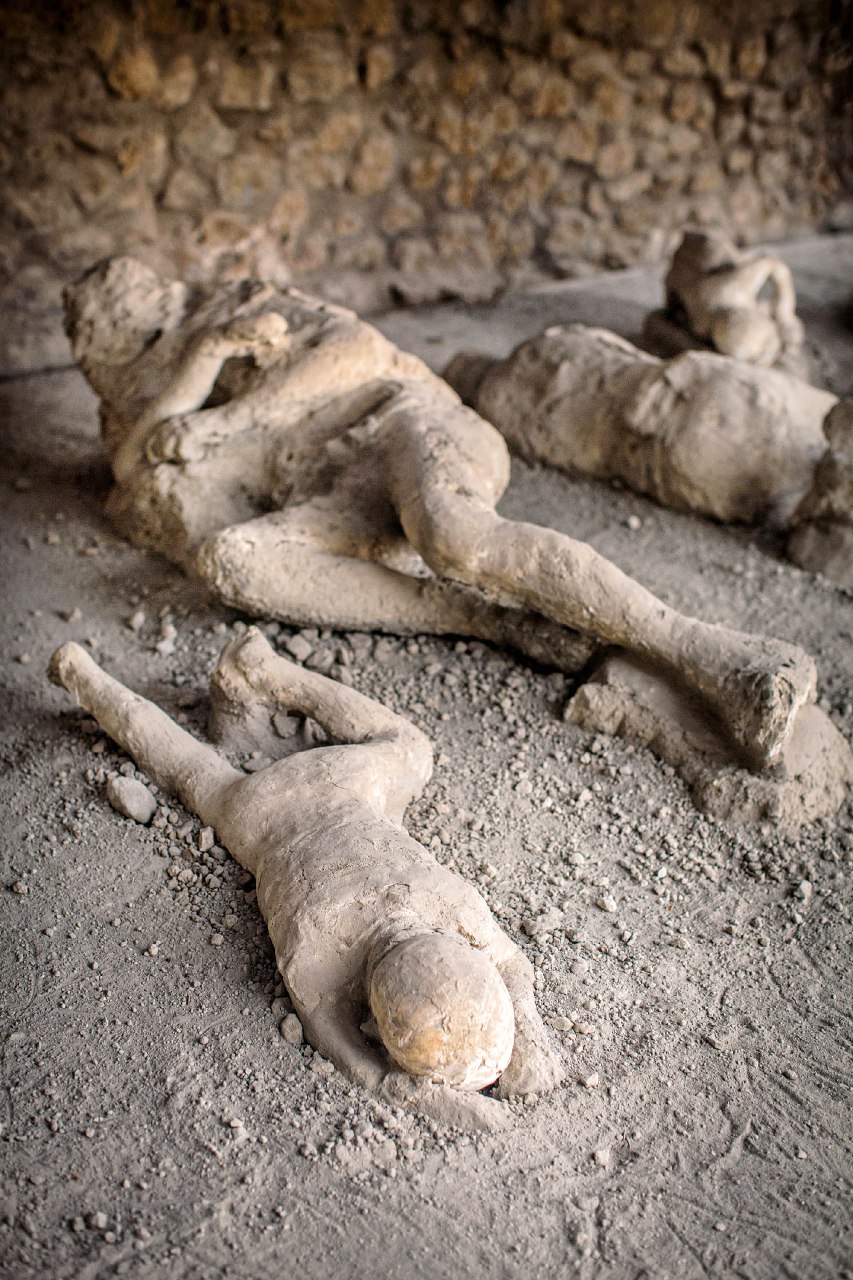 During the excavations in Pompeii, the remains of over one thousand victims of the 79 AD eruption have been found. During the first phase of the eruption, those who hadn't left the city in time were trapped in their homes or shelters, buried by a shower of pumice stones and lapilli or killed by the roofs and walls collapsing under the weight of falling volcanic debris, reaching about three metres in height. Of these victims, only the bones have been found. Afterwards, a high-temperature pyroclastic flow hit the city at high speed and filled all the spots not yet engulfed by other volcanic materials, so that anybody still in the city died at once of thermal shock. The bodies of these victims remained in the same position as when the pyroclastic flow hit them and, being covered by calcified layers of ash, the form of their bodies was preserved even after the biological material decomposed. Thanks to the method perfected by Giuseppe Fiorelli, since 1863 a little over a hundred casts have been made.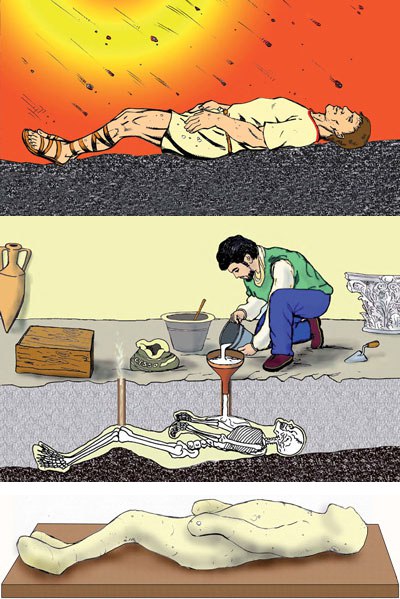 The casts of the victims, displayed in metal and glass showcases, had already been admired in the first Museo Pompeiano (Museum of Pompeii) which was opened by Fiorelli in 1873-1874. On the contrary, the many casts made in the 20th century were usually positioned for viewing, in showcases or sheltered by canopies, where the bodies had been originally found. The Garden of the Fugitives was so-called on account of the presence of thirteen of these bodies all still in their original locations. The casts have even been a source of inspiration for poets and artists, such as Primo Levi, author of the poem 'The Girl-Child of Pompeii', and Roberto Rossellini, who set a scene of his film 'Journey to Italy' (showing the discovery of some casts) in Pompeii.
Unfortunately, many of the casts on display were destroyed or badly damaged by bombings in 1943, although the hard work of Maiuri and his collaborators allowed a partial restoration. However, the casts that survived the war are not hosted in the new Antiquarium, opened in 1948. Within the framework of the Great Pompeii Project, an inspection has been carried out and some casts that were thought to have been lost have actually been found again. Moreover, the old plaster or resin casts were laser scanned in order to print 3D copies to loan all over the world for temporary exhibitions while the precious original casts, instead, will be put on display in Pompeii as unique evidence of the 79 AD tragedy.