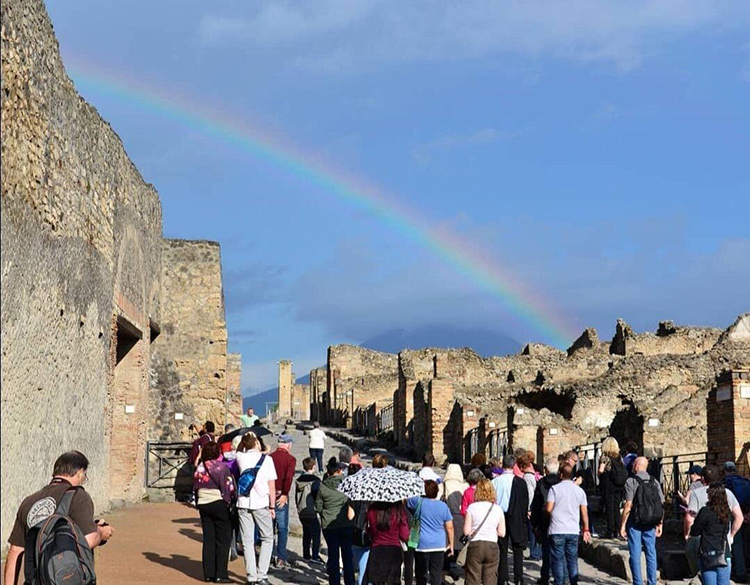 INFO for visitors:
Guided tours can be requested on site at the Piazza Esedra and Porta Marina guide stations, between 9:00 and 14:00. Through its concessionaire, the Archaeological Park solely manages requests for tours made by visitors. The service is conducted by qualified guides, independent of the Park, who can be identified by their distinctive badges. The prices, routes and durations of visits are agreed directly with the guides.
Groups that wish to visit the archaeological site of Pompeii, Villa Arianna and San Marco as well as the Libero D'Orsi Archaeological Museum at Stabiae, the Villa of Poppaea at Oplontis and the Villa Regina at Boscoreale, that the size of these groups is regulated as follows:
Pre-organised groups (tour operators / parishes / associations/ CRAL / company recreational initiatives and others) are permitted up to a maximum of 30 individuals if the group is equipped with earphones or 'whisper' systems, but are limited to a maximum of 15 individuals if the group does not have earphones or 'whisper' systems.
For schools, class groups up to a maximum of 30 people (including accompanying individuals) are permitted without earphones or 'whisper' systems;
Additional limitations on visitor group numbers may be imposed in smaller buildings or areas, or in case of particularly high visitor numbers, as advised by the Park Staff
INFO for guides:
For the initial registration at the guide station, it is necessary to send the request to pompei.comunicazione@cultura.gov.it, attaching the valid guide licence and a passport photo.