SUSPENDED SERVICE
POMPEII ARTEBUS A SHUTTLEBUS TO CONNECT THE SITES OF THE ARCHAEOLOGICAL PARK OF POMPEII
From Pompeii to the Roman villas of Boscoreale, Oplontis and Stabiae, as well as the Libero D'Orsi Archaeological Museum of Stabiae – Royal Palace of Quisisana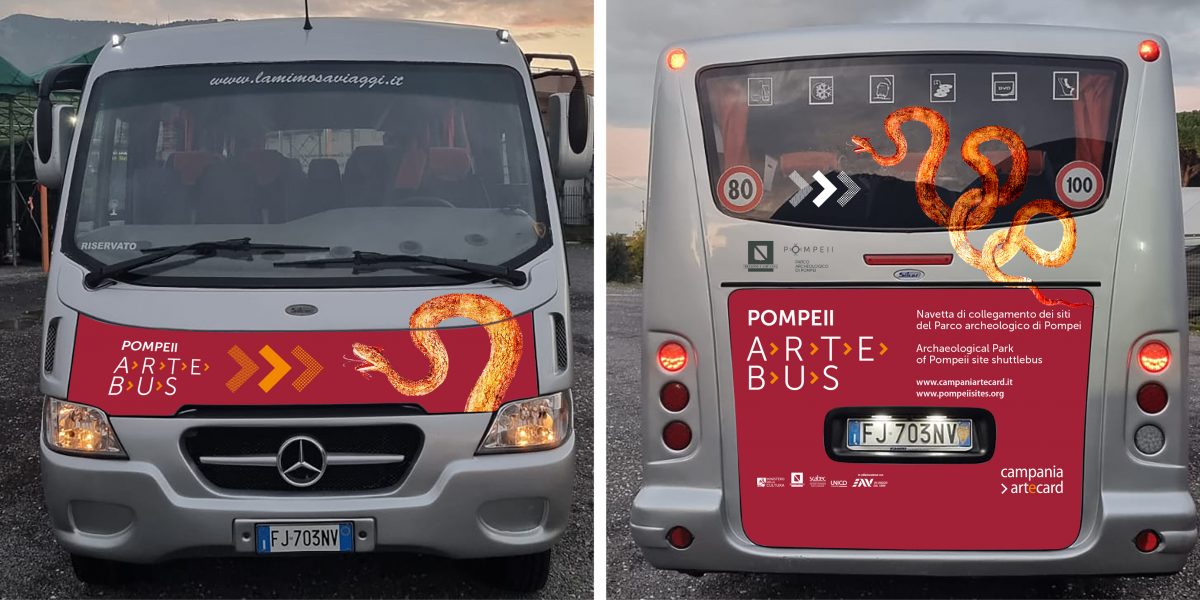 Departure from Piazza Esedra
Every day except for Tuesdays
The service is free for anyone in possession of an entrance ticket to the sites of the Pompeii circuit, including the MyPompeii card subscription or a Campania> Artecard pass.
On six days of every week, excluding Tuesdays (when the external sites are closed), two minibuses for 25 people will depart from Piazza Esedra at Pompeii, and will follow two different routes.
The first bus will take visitors to Villa Regina at Boscoreale and  to the Villa of Poppaea at the site of Oplontis in Torre Annunziata, and will make 7 trips per day, with the first departure at 9:30. The second bus, which will also depart at 9:30, will instead go to Villa San Marco, Villa Arianna and the Royal Palace of Quisisana, and will make 5 trips throughout the day. In the summer period, beginning on the 1st of April, the number of daily trips will increase to 9 for the Oplontis route and 6 for the Stabian sites. The buses are easily recognisable thanks to their distinct graphic design, which echoes that of the Artecard initiatives.
 The service, which in this initial phase is provided free of charge, has been possible thanks to an initiative of the General Directorate of the Archaeological Park of Pompeii, utilising Campania>Artecard compensation funds, and may be used by anyone in possession of an admission ticket to the sites under the jurisdiction of Pompeii, including the MyPompeii Card pass or a Campania >Artecard pass.
Access to the sites, in addition to being easier, is now also cheaper, with the annual MyPompeii pass which, at a cost of €35 (€8 for under 25s) + €1,50 online pre-sale, grants unlimited access throughout the year to all of the sites (Pompeii, the Villa of Poppaea/Oplontis, and Villa Regina/Boscoreale, the Stabian Villas and the Libero D'Orsi Archaeological Museum of Stabiae/Royal Palace of Quisisana).
Those who wish to combine a visit to the Vesuvian area with other museums and cultural sites across Campania may wish to consider the Campania>Artecard pass, which in its 365 gold version (at a standard cost of €43, or €33 for young people), permits entry to 50 museums twice a year, in addition to 20 other visits.  www.campaniartecard.it
Summer timetable

Pompei – Villa Regina/Boscoreale – Villa di Poppea/Oplontis
| | | | | | | | | | | |
| --- | --- | --- | --- | --- | --- | --- | --- | --- | --- | --- |
| POMPEI | 09.30 | 10.30 | 11.30 | 12.30 | | 14.15 | 15.15 | 16.15 | 17.15 | 18.15 (return pick-up) |
| BOSCOREALE | 09.45 | 10.45 | 11.45 | 12.45 | | 14.30 | 15.30 | 16.30 | 17.30 | 18.30 |
| OPLONTIS | 10.00 | 11.00 | 12.00 | 13.00 | | 14.45 | 15.45 | 16.45 | 17.45 | 18.45 |
| POMPEI | 10.30 | 11.30 | 12.30 | 13.30 | | 15.15 | 16.15 | 17.15 | 18.15 | 19.15 |
Pompei – Stabiae:
Villa San Marco – Villa Arianna – Museo Archeologico/Reggia di Quisisana
| | | | | | | | |
| --- | --- | --- | --- | --- | --- | --- | --- |
| POMPEI | 09.10 | 10.40 | 12.10 | | 14.40 | 16.10 | 17.40 (return pick-up) |
| SAN MARCO | 09.40 | 11.10 | 12.40 | | 15.10 | 16.40 | 18.10 |
| ARIANNA | 09.50 | 11.20 | 12.50 | | 15.20 | 16.50 | 18.20 |
| QUISISANA | 10.05 | 11.35 | 13.05 | | 15.35 | 17.05 | 18.35 |
| POMPEI | 10.40 | 12.10 | 13.40 | | 16.10 | 17.40 | 19.10 |
Winter timetable
Pompei – Villa Regina/Boscoreale – Villa di Poppea/Oplontis
| | | | | | | | | |
| --- | --- | --- | --- | --- | --- | --- | --- | --- |
| POMPEI | 09.30 | 10.30 | 11.30 | 12.30 | | 14.15 | 15.15 | 16.15 (return pick-up) |
| BOSCOREALE | 09.45 | 10.45 | 11.45 | 12.45 | | 14.30 | 15.30 | 16.30 |
| OPLONTIS | 10.00 | 11.00 | 12.00 | 13.00 | | 14.45 | 15.45 | 16.45 |
| POMPEI | 10.30 | 11.30 | 12.30 | 13.30 | | 15.15 | 16.15 | 17.15 |
Pompei – Stabiae:
Villa San Marco – Villa Arianna – Museo Archeologico/Reggia di Quisisana
| | | | | | | |
| --- | --- | --- | --- | --- | --- | --- |
| POMPEI | 09.30 | 11.00 | | 13.15 | 14.45 | 16.15 (return pick-up) |
| SAN MARCO | 10.00 | 11.30 | | 13.45 | 15.15 | 16.45 |
| ARIANNA | 10.10 | 11.40 | | 13.55 | 15.25 | 16.55 |
| QUISISANA | 10.25 | 11.55 | | 14.10 | 15.40 | 17.10 |
| POMPEI | 11.00 | 12.30 | | 14.45 | 16.15 | 17.45 |