A NEW CARD TO VISIT THE SITES OF THE ARC-HAEOLOGICAL PARK AND TO BE PART OF THE MYPOMPEII COMMUNITY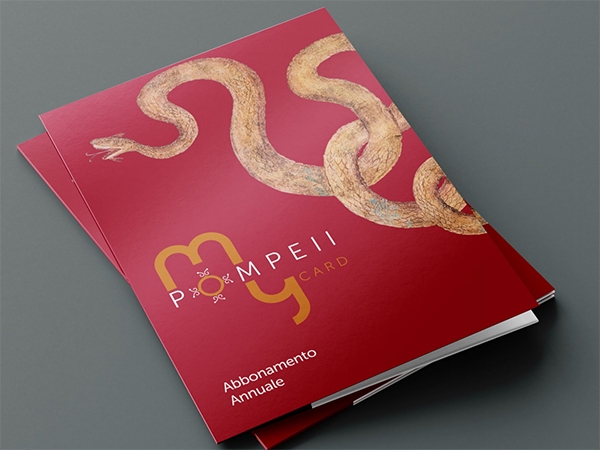 Pompeii is renewing its annual pass for site visits at an even more competitive rate. It is a new way to experience Pompeii and the sites of the Archaeological Park, at a price which is affordable for all, and with the opportunity to participate in and to be informed about ongoing initiatives.
The MyPompeii card, which is valid for one year, it costs  €35 (€8 for under 25s, 25 years not completed and EU citizens) + €1,50 online pre-sale and is valid for all of the sites of the Archaeological Park of Pompeii (Pompeii, the Villa of Poppaea/Oplontis, the Antiquarium of Boscoreale and Villa Regina, the Stabian Villas and the Libero D'Orsi Archaeological Museum/the Royal Palace of Quisisana).
Members of the MyPompeii community will receive advance notification of the latest news, as well as of the ordinary and extraordinary activities of the Park, will be able to interact and offer suggestions and proposals, and will also be invited to participate in an annual meeting with the Director of the Park, to be updated on current and future initiatives.
It will be possible to purchase the pass online at the www.ticketone.it website, for subsequent collection at the Pompeii ticket offices (at Porta Marina, Piazza Esedra and Piazza Anfiteatro). The card, which features the owner's name and is non-transferable, will be valid for one year from the date of issue, and will – upon display of an identity document – permit unlimited admission to all sites of the Archaeological Park of Pompeii, as well as to current temporary exhibitions and to certain special and exclusive events, which will be communicated periodically.The card will be valid during ordinary opening days and times. Initiatives which are not managed by the Park and which are not included in the regular ticketing or scheduling will not be covered by the pass.
Among the initiatives which are currently underway during the summer period, the card will allow a free daytime visit to the granaries/deposits, which can be requested at the Porta Marina ticket office.
Those in possession of a pass which is still within its period of validity will be able to take advantage of the same conditions as those provided by the MyPompeii card.
APP MY POMPEII
In order to ensure a safe visit, we suggest the app MyPompeii (on Apple store or Google Play store) which, once downloaded, will allow you to scan the ticket QR Code and start the tour inside the site. You will also have the chance to view, on a map, in real time, the number of people visiting the site to avoid crowds.